About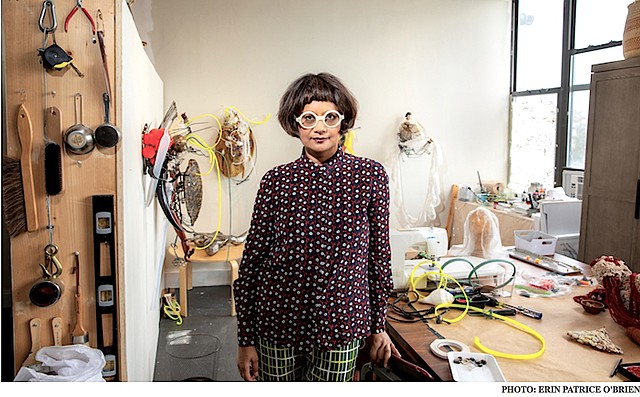 Rina Banerjee lives and works in New York City. She was born in Kolkata, India, lived briefly in Manchester and London before arriving to Queens, New York. Although Banerjee has been living in United States for 50 years, she still draws the perception that she is foreign and other.
Drawing on her multinational background and personal history as a immigrant, Banerjee's work focuses on ethnicity, race, migration and American Diasporic histories. The artist's sculptures feature a wide range of globally sourced materials, textiles, colonial/historical and domestic objects while her drawings are inspired by Indian miniature and Chinese silk paintings and Aztec drawings.
In 2018 Pennsylvania Academy of the Fine Arts and the San José Museum of Art co-organized the artist's first solo retrospective Rina Banerjee: Make Me a Summary of the World featuring 60 works of sculptures, paintings, and video. The retrospective's North American tour includes exhibitions at the San Jose Museum of Art, Fowler Museum at the University of California, Los Angeles ending at the Frist Art Museum in Nashville Tennessee in 2020.
Banerjee has also exhibited internationally, spanning 14 biennials worldwide like 57 Venice Biennial, Yokohama Triennale, and Kochi Biennial. The artist's works are included in many private and public collections such as the Foundation Louis Vuitton, Whitney Museum of American Art, San Francisco Museum of Modern Art, Centre Pompidou, Pennsylvania Academy of Fine Arts, San Jose Museum of Art, Kiran Nadar Museum of Art, and the Brooklyn Museum.
In 2020 the artist returned to teaching as a critic for the Yale School of Art Graduate Program.