Talks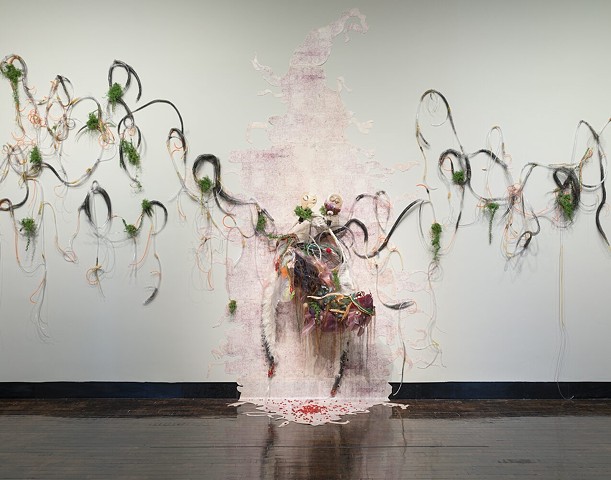 "Infectious Migrations", Retrospective: Make Me a Summary of the World, at Frist Art Museum, photo by John Schweikert.
Art and Music Histories Colloquium Series: Banana Crimes and Burnt Fruit: the Politics of Plants, Food and Race in Art
Syracuse University Virtual Event
Monday, April 4, 2022, 5:30pm – 7:30pm EDT
Join us for an exciting virtual discussion about the politics of plants, food and race in art by internationally acclaimed artist Rina Banerjee, creator of The World as Burnt Fruit (2009), and art historian Shana Klein (Kent State University), author of The Fruits of Empire: Art, Food, and the Politics of Race in the Age of American Expansion (University of California Press, 2020). The conversation will be moderated by Romita Ray and Sascha Scott in the Department of Art and Music Histories.
Please register here.
E-Artist Conversation: Rina Banerjee and Kymberly Pinder
Yale University Virtual Event
Thursday, November 11, 2021, 12:30 pm
Join artist Rina Banerjee, M.F.A. 1995, in conversation with Kymberly Pinder, Ph.D. 1995, the Stavros Niarchos Foundation Dean of the Yale School of Art. The conversation is moderated by Elisabeth Hodermarsky, the Sutphin Family Curator of Prints and Drawings, and opens with a welcome by Emily Bakemeier, Vice Provost of the University. Offered in conjunction with the exhibition On the Basis of Art: 150 Years of Women at Yale. Generously sponsored by the Martin A. Ryerson Lectureship Fund. Closed captions will be available in English.
In Conversation: Artist Rina Banerjee with Emma Larson and Ingrid Song
presented by Williams College of Art
Agents for Creative Action Emma Larson '21 and Ingrid Song '21 interview artist Rina Banerjee, whose 2010 work "Dangerous world, lava and erasable flower, oil and radiation filled with power—folded earth's sky until there be no hint of shine or showers. But within the hour like an onion on its way up to rise higher a family of man make it all still fine . . . " will be featured in the exhibition "Sweaty Concepts" running from Aug. 6 to Dec. 19, 2021.
July 16, 2021
Virtual Studio Visit with Rina Banerjee
presented by Hosfelt Gallery
Rachel Kent, Chief Curator of the Museum of Contemporary Art in Sydney, Australia, will lead a virtual studio visit with Rina Banerjee.
June 29th 5pm PT / 8pm ET.
Aicon Conversations
presented by Aicon Gallery
Rina Banerjee in conversation with Romita Ray and Jason Vartikar, moderated by Prajit Dutta.
April 9th 11am EST / 5pm CEST.
Exposer, Migration, Contagion and Isolation Artist Rina Banerjee In Conversation
Presented by Sotheby's Institute of Art
This event will feature Jodi Throckmorton Curator of Contemporary Art Pennsylvania Academy of the Fine Arts (PAFA), discussing curating Rina Banerjee's touring retrospective "Make Me a Summary of the World" with the artist, Rina Banerjee.
Friday, February 19 2021
1:00pm GMT
Price: £45
Virtual Artist Talk: "A World seeing more than, human culture" with Rina Banerjee
The Columbia Museum of Art
Facebook Live
Wednesday, January 6, 2021
As the exhibition draws to a close, Visions from India artist Rina Banerjee speaks to the specificity of American identity and South Asian culture as they are reflected in her work. A live Q&A led by CMA Curator Catherine Walworth will follow the talk. Free on Facebook Live.
45 at 45 Live Virtual Conversation between Rina Banerjee and Alison Saar
L.A. Louver
Wednesday, October 14, 2020
Kicking off the start of L.A. Louver's group show "45 at 45," Banerjee and Saar will discuss their works in the exhibition, touching on themes of gender, cultural identity and materiality followed by a live Q&A with the audience. The conversation will be moderated by L.A. Louver Director Kimberly Davis.
Fine Arts Visiting Artist Lecture Series: Rina Banerjee
Presented by
The University of the Arts
Philadelphia, PA
Tuesday, October 13, 2020
Artist's Perspective: Conversation with Rina Banerjee and Mark Scala_
Frist Art Museum
Friday October 9, 2020
Rina Banerjee joins chief curator Mark Scala in conversation about the exhibition Make Me a Summary of the World. Learn more about Banerjee's artistic practice and how exhibiting at the Frist Art Museum, which occupies Nashville's former main post office, symbolizes the ideal of egalitarian communication that is at the core of her work. This program will be presented on Zoom.



Space 118 On Making: Rina Banerjee
August 30, 2020
Space 118 presents On Making, 2020 – a series of talks that delve into the age-old query of "how do we make?"
Whether their making is concerned with sculptures, exhibitions, spaces, or books – we invite artists and curators to trace the arc their methodologies have taken to this day, and probe how these might respond to the changing contours of tomorrow.
Rina Banerjee will take us through this heterogenous practice explored in her retrospective Make Me a Summary of the World – which closed in March 2019 at the Pennsylvania Academy of the Fine Arts now showing at the Frist Art Museum in Nashville, Tennessee. She is joined in conversation by Phalguni Guliani and Saloni Doshi.
'Exposer to who across the world? Deviation away from centre'
Center of International Modern Art
August 24, 2020
CIMA presents 'Exposer to who across the world? Deviation away from centre Exposer to who across the world, and who among us find rare shelter, frightened too by our migration, deviation away from center when pencil puts each day that land holds above water sky reaches above both and bundles of commerce as bubbles painted release free' with internationally-acclaimed artist Rina Banerjee, Romita Ray, Associate Professor of Art History, Syracuse University, and Rakhi Sarkar, Director, CIMA.
at home: Artists in Conversation - Rina Banerjee
Yale Center for British Art
August 14, 2020
Rina Banerjee, artist (Yale MFA 1995), in conversation with Rachel Stratton, Postdoctoral Research Associate at the Center
Lively and inspiring conversations with some of today's most notable artists. at home: Artists in Conversation brings together curators and artists to discuss various artistic practices and insights into their work.
Rina Banerjee has lent two works for display in the Center's upcoming exhibition Art in Focus: Women From the Center that tie together themes explored in the exhibition and capture the essence of all art-making: the human imagination.
In Conversation: Rina Banerjee and Chief Curator Claire Gilman
The Drawing Center
June 17, 2020
The Drawing Center's Chief Curator, Claire Gilman, and artist Rina Banerjee for a conversation about the medium of drawing as a vehicle for exploring issues of identity, equity, human entanglement and interconnection, and globalism and migration.
PAFA Pours: Infection, Migration, and Material in Rina Banerjee's Work
PAFA - Pennsylvania Academy of the Fine Arts
May 14, 2020
A conversation with PAFA's Curator of Contemporary Art Jodi Throckmorton with Marla Berns (Director, Fowler Museum at UCLA) and Lauren Dickens (Senior Curator, San José Museum of Art) on how Banerjee connects migration, globalized markets, and worldwide pandemics in her work.
Coffee with a Curator
MOCA Jacksonville
May 8, 2020
Artist Rina Banerjee in conversation with MOCA Senior Curator Ylva Rouse discusses the inspiration behind her 2020 Project Atrium installation titled "Irresistible, irreplaceable Earth, open over interior screams, shouting in folds creased by vapors that thread fire and earth, between ground and sky; Masculine Mythologies play upon us, heavy and heaving, as the Feminine escapes, the embers beneath breathing, to tired exile" at MOCA Jacksonville.